Casey's official guide to Nicaraguan hammocks
I love hammocks.
I lounge in a hammock almost daily. My tent is a Hennessy hammock. When I lived in Bluefields I rigged up a swinging desk so I could work from my hammock. The future company idea I have swinging around in my head is a specialized hammock company (one day man, one day). Perhaps my love for hammocks is one reason I can't seem to leave Nicaragua. It's just that comfortable.
Hammocks in Nicaragua are a lot like bananas in the western world. They are long, curvy and it's entertaining to watch someone step on it wrong. But more than that, people think of one kind of hammock when they think of Nicaragua. However, just like the wide variety of bananas, so too are the hammocks in the market. In my time living in Nicargua I have come to know just about every kind of hammock that can be found here. After all, Nicaragua is the land of lakes and volcanoes and hammocks. So I present to you Casey's official guide to Nicaraguan hammocks (all images stolen from the internet unless otherwise stated).
The Masaya Hammock
These are, hands down, works of art. You can find them in several places around the country but most (not all) of them are made in the Pueblos Blancos and sold in Masaya.
They are big. These are what nearly every middle – upper class Nicaraguan has hanging in their back patio. Each one is made by hand and represents days of work, depending on the model and color scheme.
The two main characteristics that make these hammocks unique is the heavy-gauge cotton thread used in the weave (much thicker than the hammocks you find in Mexico) and the spreader bar. The nice thing about the heavy weave is that it doesn't trap heat and is perfect for lounging on a hot day. The bad thing is that it doesn't trap heat and can get a bit cold on your back when lounging in the breezy night. Spreader bars are used to keep the hammock more flat when you lay in it and is a very unique innovation. Unfortunately it brings your center of gravity way up making it easy to flip out. Do not hang this hammock over a lake or volcano, especially with children.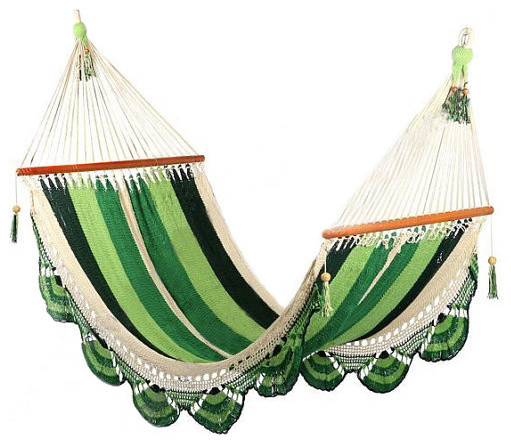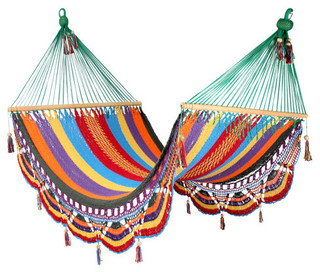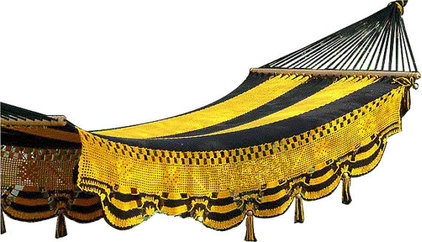 In addition to the Mayasa area there is a village called San Isidro on the way from Managua to Esteli that makes these. I have seen their workshops running hundreds of meters of yarn between stakes along the side of the road and the finished products displayed for sale outside their shops. I haven't checked the prices but I would assume they would be on par or probably cheaper than Masaya. You can also find them for sale in the Huembes market in Managua, where you will pay about $10 more for the privilege of haggling with professional salesmen and perhaps getting your car broken into. If it's a last-minute gift, don't worry. They sell them at the airport as well for the low, low price of your first-born child.
Careful with the spreader bars:
Masaya hammock chair
Imagine the hammock doubled over and hung from the spreader bar, that's the hammock chair. They are a smaller, lighter and cheaper option to the Masaya hammock.
These are perfect for hanging around reading, watching tv or just lounging, but I suspect most people just buy these for sex.
You can find these right alongside the Masaya hammocks in any market that sells them.
Brazilian style
When I am shopping drunk for hammocks, these are the ones I buy.
The Nica-made, Brazilian-style hammocks are made with the same material as the Masaya hammocks, but with fabric instead of a loosely woven thread. They cup your body pretty well, like a peapod, and without the hipbelt-accoutrement-snagging problems of the woven thread hammocks. This hammock-turned-peapod action also lowers the center of gravity, making it nearly unpossible to flip out unless there are two or more people monkeying around at the same time.
A general comment on chillin in a hammock without spreader bars: the professional hammock chillers don't lay in them end to end like a banana. They put themselves a bit diagonal which flattens out the shoulders, straightens the back and lowers the legs.
Here is what a Brazilian style hammock looks like:
Kind of like a regular hammock.
These you can pick up for between $10 – $20 in Masaya and a few dollars more in Huembes.
Impermeable
Nylon. These are super light sheets of nylon fabric with the ends folded over and sewn to allow for the hanging rope to pass through. These are what the guys in the street are hawking if they aren't selling cheaply made Masaya style hammocks. Sometimes they come in printed designs (like American flags) but are usually solid colors. You can find these cheap…$5 or less…in the markets at any city, town or village. Impermeables pack up small and are perfect for balling up and throwing in the bottom of your luggage during your big trip. When you find yourself stuck with no place to sit on the beach in Corn Island, you will thank me for convincing you to take it. Two things to consider is that they can get a big chilly if there is a cool wind blowing and mosquitoes bite through it without a problem. If you are spending the night in it, don't forget to throw down a blanket below your back.
These are photos of mine in action during the overnight layover in the Miami airport.
Plastic sack
This is as cheap as they come.
It is shaped like the other hammocks without the spreader bar but is made of woven plastic, just like the rice sacks. This is a rural Nica favorite, probably because it can be picked up at half the pulperias for about $2. It is usually shorter than the other hammocks and can be itchy, but it's tough, skeeterproof and water beads right off. Locals also use it for sun shades in the market. This is a close-up of the material.
 Fishing net
These are rare breeds found only in communities that border the sea. They are handmade, repurposed hammocks that used to serve their owners to put food on the table now the keep their butts off the ground. Not the most comfortable hammocks in Nicaragua, but perhaps the most inventive.
 Banana hammock
My advice is:   no.
Please take my advice. I have slept in, hung up, lounged around and flipped out of nearly every hammock listed (before you ask any questions, I SAID NEARLY). And once I open
up shop there will be one more style listed…but I can't go into details due to corporate gag order issued by my high-powered attorneys in New York and London and Wiwili.
But get yourself a hammock when you arrive and you will be so glad that you followed ol Casey's advice that you will leave me a message telling me how glad you are on my blog!
Your'rewelcominadvance!